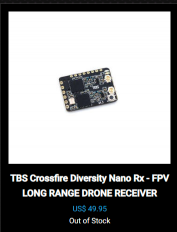 Is it just me or is there a post-Covid supply chain issue with FPV electronics?
My favorite brands are all out-of-stock at my go-to FPV stores and even going to manufacturers like Team Blacksheep is not much better with out-of-stock on just about anything they manufacture.
I used to be a big fan of the Talon F7 and Aikon ESC stacks in 30×30 but these cannot be found anywhere either. Foxeer and T-Motor were my next choices, but again, hard to find.
This has led me to look outside my usuals an explore some new brands and combinations that have been eye-openers for sure.
With stock of TBS Tracer and Crossfire dwindling locally and simply unavailable from TBS, I've been building drones with RadioMaster ELRS receivers now. In particular, the reduced cost and great availability seems to be more reassuring.
In terms of stacks, SpeedyBee seems to be the winner in both standalone Flight Controllers both in F4 and F7 levels. They are loaded with most "extra" features, have a ton of plug-in options for those that don't like soldering and have both Bluetooth and Wi-Fi built right in at a great price point and carrying Amazon's generally no hassle return policy. I've turned to Amazon for motors order has they seemed to have stock.
RadioMaster has been able to deliver factory orders. I've always happy with ability to deliver.
What about you? Have you been able to source your regular electronics or have you had to make different choices of late?