The venerable Caddx/DJI Air-Unit "Mini"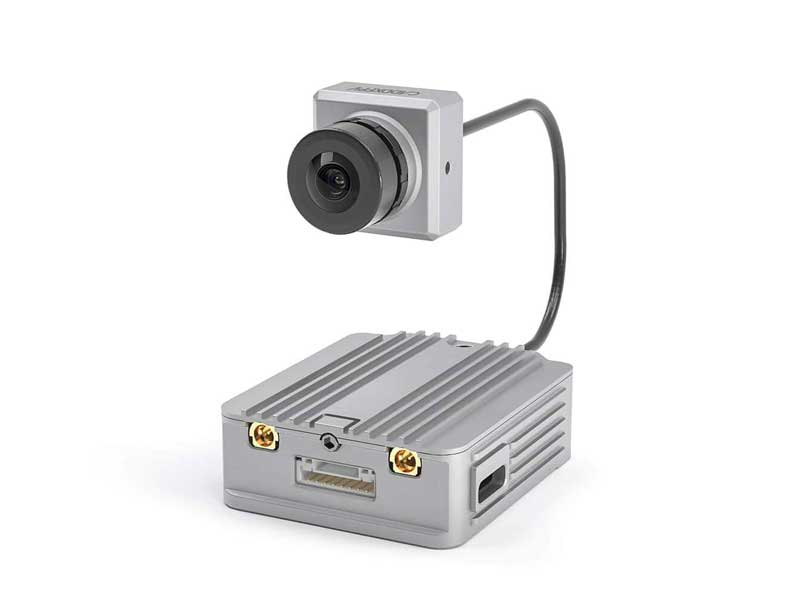 Today I'd like to share some information about the DJI Air-Unit "Mini". At this point in time, DJI isn't manufacturing these devices anymore, but rather have licenced production to a select few companies, all causing gobs of drama within the social media circles of FPV enthusiasts and confusion for everyone else.
Increasingly, the pictured Caddx/DJI Air Unit is being replaced with the "Vista" like variants from Caddx and now as the RunCam Link. Lots of product overlap, but all seem to work with DJI Goggle V2. So far so good.
I've been working on an X8 cinelifter that'll be carrying a Lumix BGH1 and a light weight wide-angle lens.
While my drone building experience is short time-wise as February 2023 will be my third year in the industry/hobby, my other successful (literally dozens) drone builds have given me confidence and some credibility in the craft.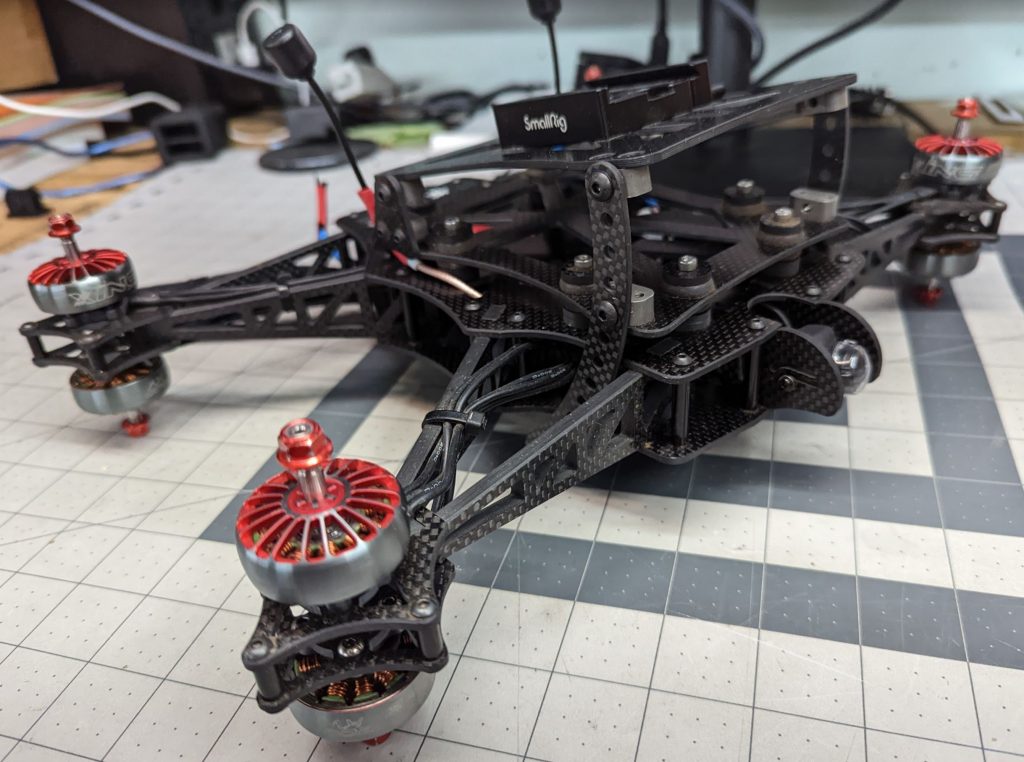 A AOS Cine 70 designed by Chris Rosser available from CNC Madness
The build is as follows:
2x iFlight 4pcs XING 2806.5 1800KV Brushless Motor 3-6S for QAV FPV Racing Drone Quadcopter (Unibell) (total of 8 motors + a spare)
Caddx Vista HD … I think it may have been Aliexpress
Some very expensive silicone bushings
A medley of 7″ props for testing; remember buy lots of extras. Bottom props get trashed.
Our drone was buggy from day one, and I'll tell you why and hopefully you may learn from my mistakes.
This build originally had a Caddx Vista module, but fought to no end with the module overheating issues. It was the first time any of my Caddx Vistas had complained about overheating so it took me aback when it presented a message in the goggle to the effect of "consider landing…". The heat issues were solved by shifting the big 6s battery further back, opening more frame holes that allow better airflow, at the cost of a rearward biased center of gravity. When the Vista was in sufficient airflow, the quality and range wasn't very good as compared to other my other builds so I never gained a sense of trust with this X8, perhaps the camera or stand-in shadowed out the RF sufficiently on the dark side to keep this on a short leash.
A natural solution would be a Caddx Air-Unit Mini that would provide an additional antenna, and perhaps help the video.
So that's what we did, ordered a new Caddx Air Unit from our partner in Build-Rip-Break-Fix at RotorVillage. I had a few days before I'd have time to fly again, so quickly, once received the Air Unit was installed and I did a goggle test in the basement just to see if video was coming through, and it was.
Here's another annoyance. On a Caddx Vista, the provided connector pigtail must be soldered onto Caddx Vista Unit while the Caddx Air-Unit provides the opposite, the connector pigtail must be either soldered onto the FC or made into a compatible connector. It would be nice to have consistent device-side connectors. Annoying to swap, but now I have an easy to use cable for this.
A few days later when and where I test fly, I was up early and headed outside with a full pack to see if anything improved. With the drone out in front of me, I watch the props, arm the drone, observe that everything is spinning consistently, and reach up and drop my goggles down.
Blackness. Only Betaflight OSD items.
*disarm*
Video transmission resumes.
*arm*
The video stream starts to get green lines, latency climbs and eventually the goes black again; camera only loss.
*disarm*
FUUUUU….
Having just confirmed things are much worse now, I start typing the symptoms into Google in hopes of an easy fix. I'm quickly immersed in a DJI forum where Air Unit issues seem to abound. This thread was key.
In summary, the following symptoms share a root cause.
latency would jump into the hundreds on milliseconds inducing crashes.
camera feed loss; telemetry still coming through
Green lines after arming
Glitching motors
High error rates in Betaflight "Motors" during manual motor activation ( >30%)
Unlike the Vista counterparts that provide through holes allowing for hard-mounting, the Caddx Air Unit has no mounting holes and requires electrical isolation for it AND the camera. There are many 3d models available to print a base/holder that can be zip-tied with the Air Unit through the carbon.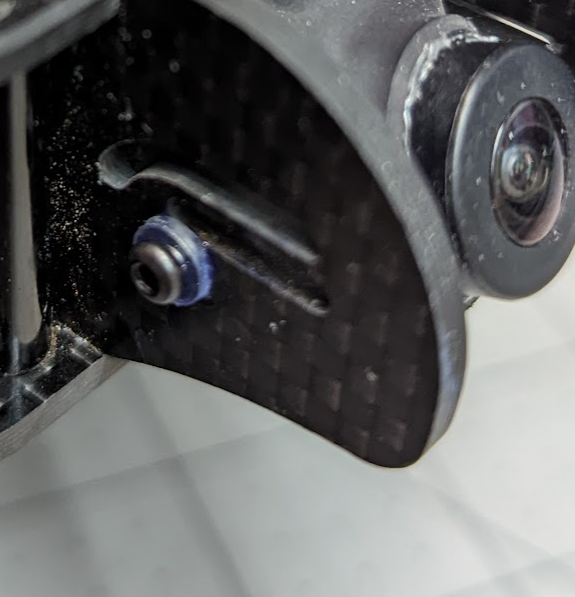 The camera can be isolated with some TPU printed camera brackets/holders, but in cases such as mine, where the camera is perfectly sized for the enclosure the Cine70 provides, I opted to shrink wrap my camera and use the shortest possible screws with plastic washers and conformal coating between the washer and frame in order to mount the camera solidly. Using longer screws or omitting the outside plastic washers induces the symptom again. Isolating the camera in this fashion is critical to get right, seemingly more important with the Air Unit than the variants such as the Vista.
Electrically Isolating the camera has solved the latency problem, the green lines and I thought the camera feed loss was solved until it (video loss) presented itself in flight yet again. Lucky again, only props.
Back to the bench.
I removed the props and set up a fresh battery to do some shake testing. I wasn't able to induce anything failure that I was able to catch in the act, but in frustration, I removed my goggles and started watching the drone as it struggled there propless, the PID loop trying to make sense of the gyro, slowly ramping throttle to the moon as I rocked back and forth it on it's battery, motors glitching occasionally yet unable to reproduce the video loss condition.
Watching the Betaflight configurator, the motor tab shows the usual 8 motors, but still with an unusually high error percentage, biased moreso to ESC #1. I proceeded to jog the throttle up and down and observe an Error percentage jumping from 0% to 40%. The Betaflight Wiki says: "The reported error percentage should not exceed 1%. All motors should report an RPM of 0 unless spun."
An arc!
An arc from the MMCX antenna extension connectors to the frame. It was faint and red-orange and correlated with motor glitching too!
Got ya!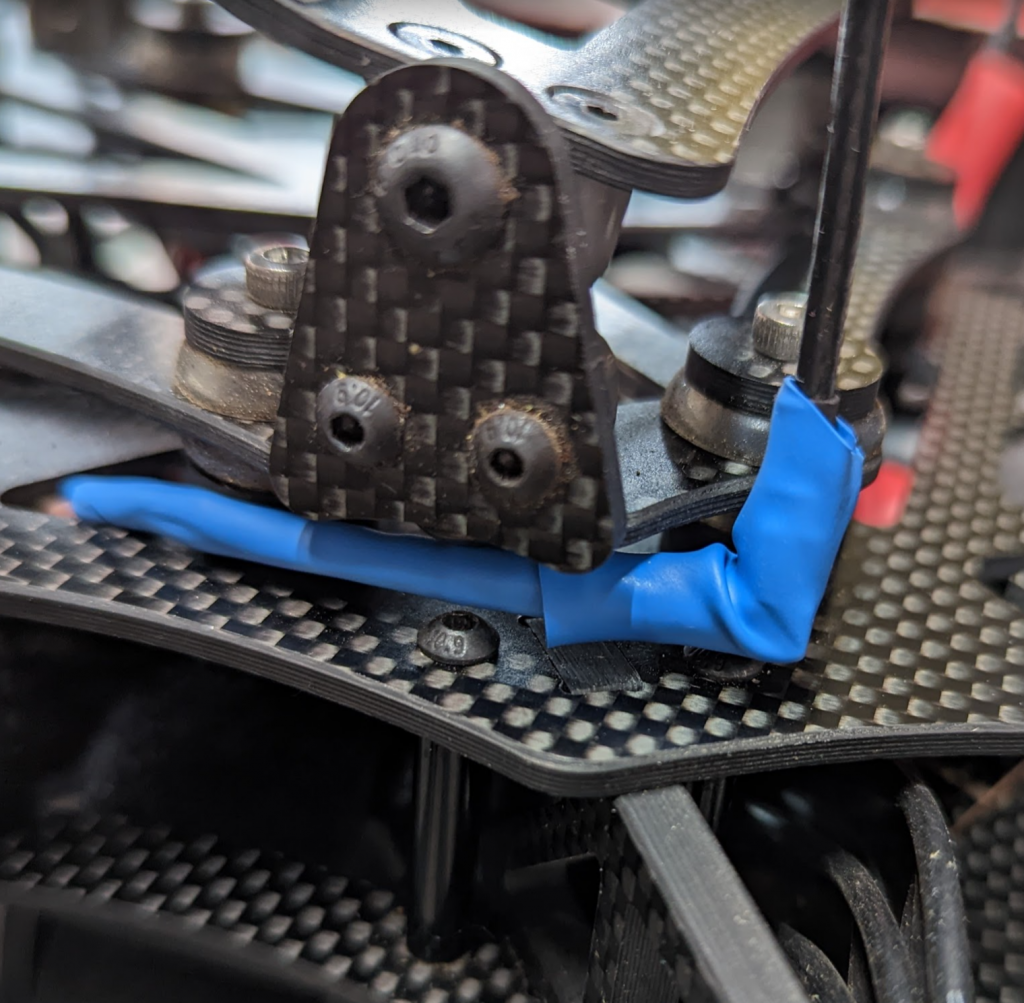 I don't know if any else has ever tried to add heat-shrink to these types of connectors, it's not pretty to pull over the connected MMCX 90 deg connector. Like pulling a size 11 sock over size 12 foot, snug and ugly. Likely some antennas with straight-in connectors would be better for this build but esthetics aside, the message is clear.
No conductive part of the Caddx Air Unit can contact the carbon frame. PERIOD.
If one actually reads the manual: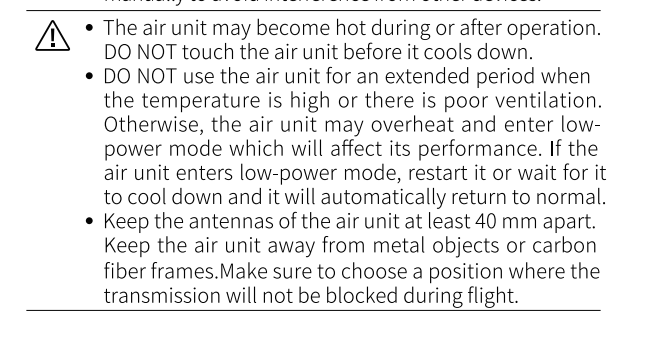 The last bullet point needs more BOLD and Italics and EMPHASIS on how important it is. It really should read: "The air unit requires complete electrical isolation from the rest of the frame. No conductive part of the air unit is allowed to contact metal objects or the carbon frame."
I can now resume my journey in tuning an X8, but with faith in the build, progress with be forthcoming.