Shendrone Squirt V2 Part 1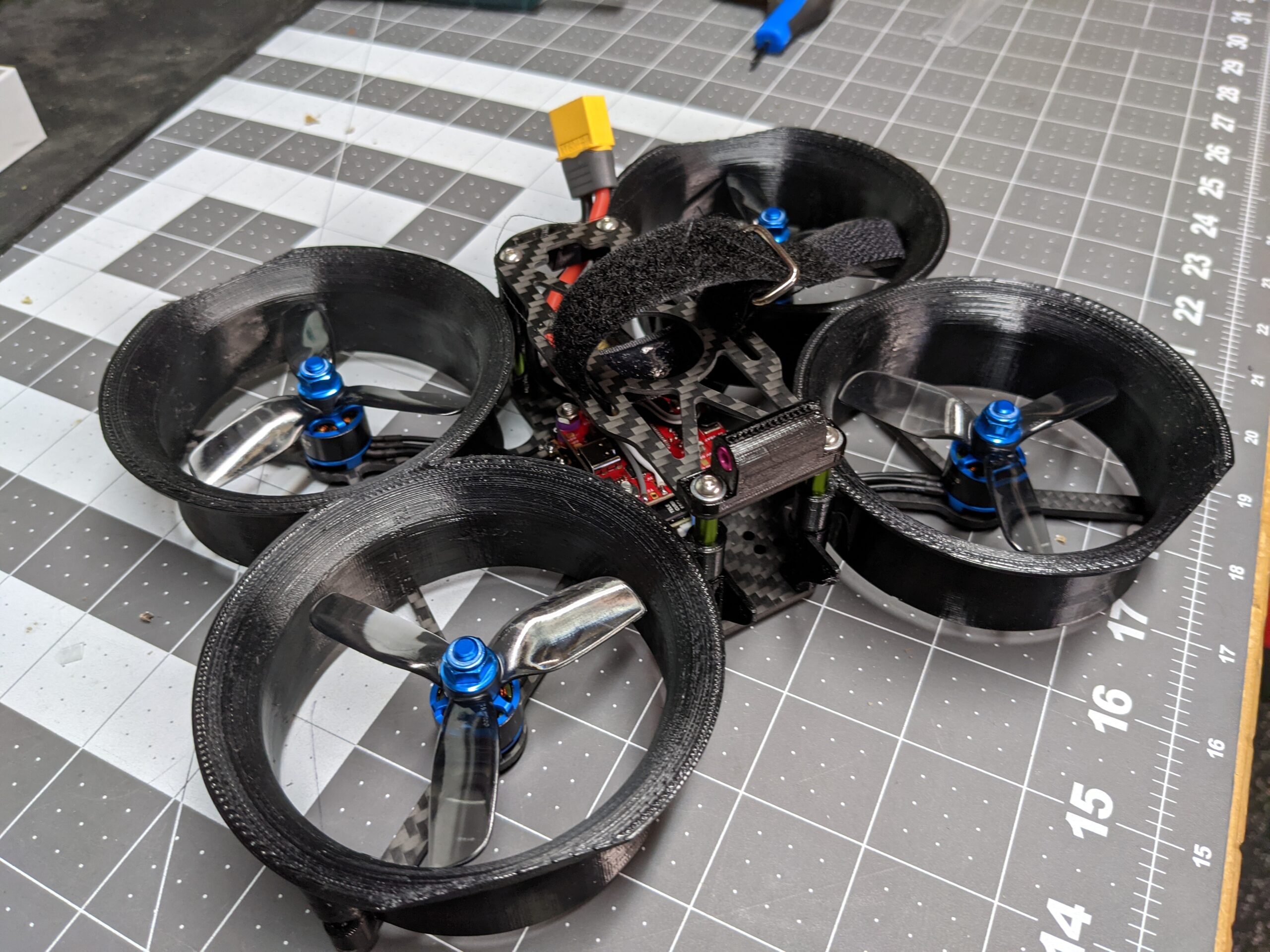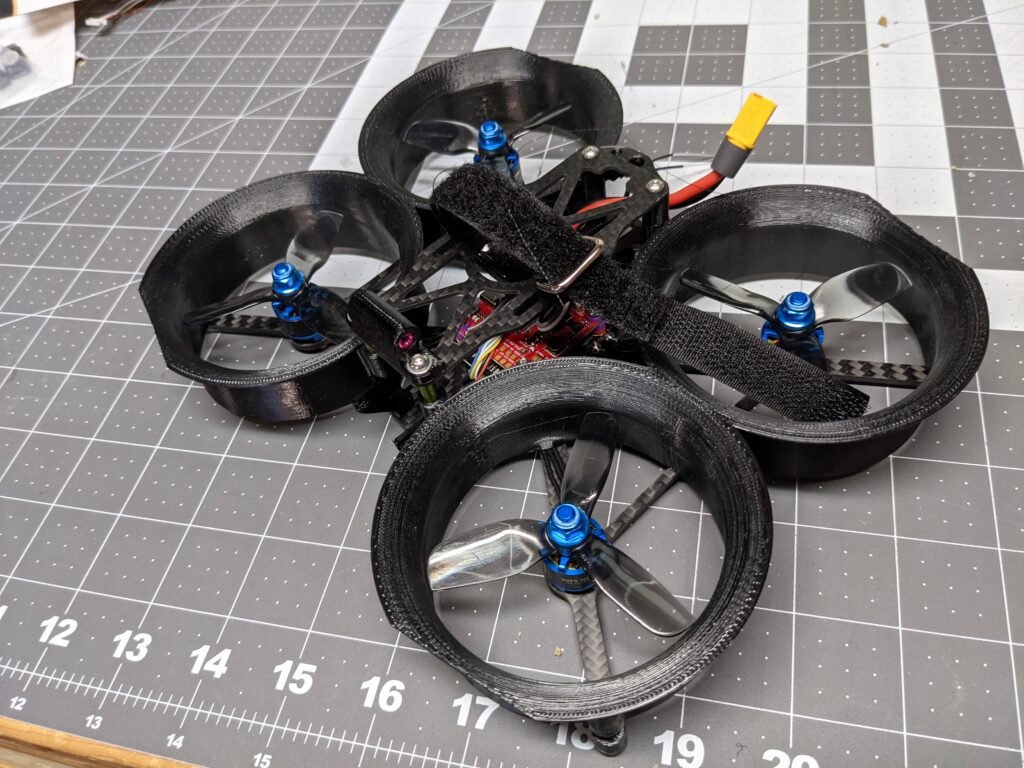 A little while ago I ordered this kit from RotorGeeks and got it in the air today after a false start with an FC problem.
Simple and well thought out. No need to even include an instruction sheet. I'm far from an experienced builder, this being my second and I didn't find it too difficult.
The frame is beautiful carbon, nicely cut and pretty thin. Once it's all together, the ducts provide ample protection to the arms. They are not replaceable like many carbon quads; the whole bottom plate would need to go. The bottom plate is 2.5mm thick and the top shows 1.5mm.
I got it together between emails and calls today, and while I lacked any 4S packs with XT60 connectors, via adapters, I was able to power it up and get Betaflight and BLHeliSuite32 going to flash things.
The first Talon F7 HD I received seemed to have a problem with it's ESC #4 output. RotorGeeks has been pretty supportive along the way with some good advice and troubleshooting tips.
For an ESC, I went an Aikon AK32 – v3, at 55A. This is a great ESC. Once the FC was working I was able to pull the setup, flash the firmware and set Motors 1 and 4 to clockwise. Save Reboot. I particularly like the way the motor solder pads have a 2-3mm gap between them ensuring plenty of space to avoid bridging connections. The AK32 comes with a cable that fits to the FC; please double check the pin-out as it was incorrect in my case. (YES, I did check all this before discovering the funny FC; I'm using the same cable on a replacement and it's fine)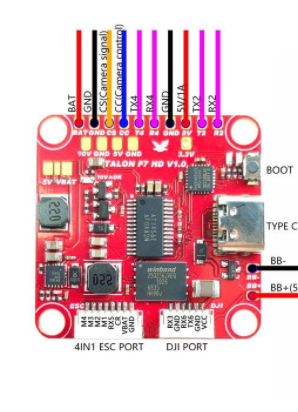 If we pinout the AK32 left to right
GND
BAT+
ESC1
ESC2
ESC3
ESC4
CURR
TELE
The Talon FC 4-in-1 ESC Port
ESC4
ESC3
ESC2
ESC1
RX5
CR
VBAT
GND
Included in the AK32 box is a mini-JST header and a pre-crimped harness already attached to another mini-JST header that is properly pinned out for the AK32. Plug this header into the AK32, and make the adjustments on the FC side and build out the blank header as follows (make sure you have it oriented the right way too, so you don't build it upside down, because mini-JST suck to disassemble).
From the ESC:
AK32 Pin 1 to FC Pin 8
AK32 Pin 2 to FC Pin 7
AK32 Pin 3 to FC Pin 4
AK32 Pin 4 to FC Pin 3
AK32 Pin 5 to FC Pin 2
AK32 Pin 6 to FC Pin 1
AK32 Pin 7 to FC Pin 6
AK32 Pin 8 to FC Pin 5
In Betaflight I flashed the firmware and went the defaults for most everything. TALONF7DJIHD 4.2.8 was what I chose.
UART 2 set to Serial RX
ESC/Motor Features
Set the ESC/Motor Protocol to ONESHOT125
I'm waiting on a Caddx Vista VTX and a Nebula Pro to move forward on this build. So far, it flies wonderfully, and having tried with and without the ducts, the thrust with the ducts is shockingly good.
Part 2…. in draft.