What Transport Canada could change…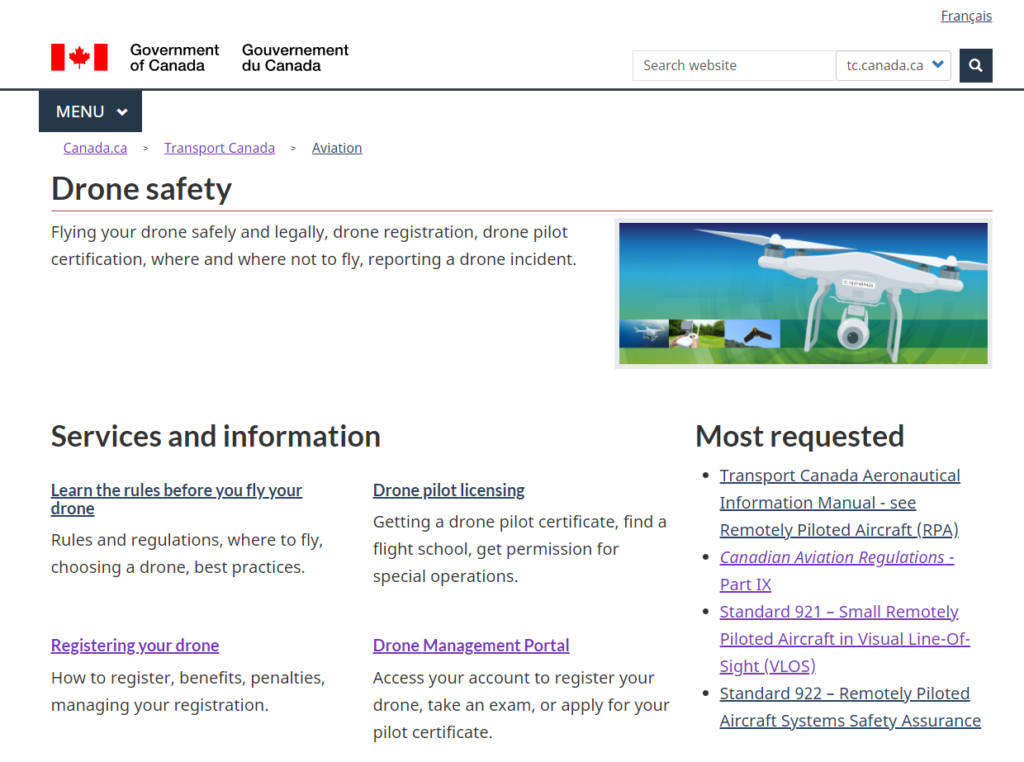 Legally flying a drone in Canada is not a trivial task. On January 9, 2019 Canada published it's new rules for flying drones.
Where we are.
In Canada, Transport Canada governs the rules around drones/UAVs/RPAS. Drone pilots must follow the rules laid out in the Canadian Aviation Regulations (CARs) for drones that weigh up to 25kg. I'm not really sure what happens with a heavier drone it's likely much worse.
Like most places in the world, sub 250g drones have no licensing or registration requirements, but must be flown in a manner that respects safety and other laws.
Transport Canada has created 4 classes in which drone operations can take place:
| | | | | |
| --- | --- | --- | --- | --- |
| | Sub 250 | Basic | Advanced | Special Operations |
| Visual Line of Sight | Mandatory | Mandatory | Mandatory | Varies, but can be approved. |
| Below 122m (400ft) | Mandatory | Mandatory | Mandatory | Can be approved |
| away from bystanders | Yes | Min 30m | Keep a safe distance within drone RPAS Safety Assurance declarations | Can be authorized |
| away from emergency operations and advertised events | Yes | Yes | Yes | Can be authorized |
| Avoid forest fires, outdoor concerts and parades | Yes | Yes | Yes | Can be authorized |
| away from airports and heliports | 5.6 kilometres (3 nautical miles) from airports 1.9 kilometres (1 nautical mile) from heliports | Fly Outside controlled airspaces | Yes but also can be inside controlled airspace if planned and approved/authorized. | Can be authorized |
| outside controlled airspace (for basic operations only) | See above. | Yes | Yes but also can be inside controlled airspace if planned and approved/authorized. | Can be authorized |
| far away from other aircraft | Yes | Yes | Yes | Can be authorized |
As expected the so called Micro-Drone (sub-250g) gets a big pass on some of the big items, like "Outside Controlled Airspace" as the majority of urban areas are blanketed by one or more airspaces but is not absolved of flying safely. A 250g drone constructed of carbon fiber that hauls around a LiPo battery twitching with full charge, ready to explode is likely to cause the same damage as a 1000g 5 inch quad if ingested by a turbo-fan jet engine. Manned aircraft are fragile and can be brought down by birds, so the risk to manned aircraft is largely the same no matter the size of drone.
They (drones and manned aircraft) should not meet and these rules make sense.
There are a number of different types of drone pilot ranging from the hobbyist to the professional with a few notches in-between. These rules are made to blanket them all, depending on the type of operation being conducted, however, these rules are clearly badly-aimed and unsuitable for the vast majority of operations. Calling booting around in your backyard an operation is a misnomer, so always understand how banal the hand than pens these rules/laws.
Transport Canada has engineered the rules and regulations under a series of assumptions, experiences from managing manned flight and what is seen as good-practices of airmanship. From Wiki, Canadian airspace is the region of airspace above the surface of the Earth within which Canada has jurisdiction. It falls within a region roughly defined as either the Canadian land mass, the Canadian Arctic or the Canadian archipelago, and areas of the high seas.[1] Airspace is managed by Transport Canada and detailed information regarding exact dimensions and classification is available in the Designated Airspace Handbook which is published every fifty-six days by Nav Canada.[2]
If you're outdoors in Canada, off the ground, whether an centimeter or a meter or kilometer, you're in Canadian airspace, managed by Transport Canada.
Transport Canada doesn't seem to really understand how the majority of consumer grade drones are being used. Transport Canada seems to believe that a vast majority of drones will co-exist with commercial air-traffic, squawk transponder codes, share air-ways, enter patterns, land and depart from airports. These drones are likely to weight more than 25kg.
While the future may hold these sorts of drone services but we're talking about now; today, and maybe tomorrow where the majority of the hobbyist and prosumer base couldn't be more detached from this Transport Canada vision.
The stage in their mind is basically set for a future of remotely piloted commercial air services. Treat them like aircraft, on a parallel ruleset, but micro-manage them. Next will likely be the fitness of drone pilots, increased scrutiny and likely medicals depending on the nature of the drone operations.
The majority of the consumer grade drone/quad use-cases can be characterized in the two following bullets:
Urban/Semi-Urban/Rural flight, flight distance no more than 200-300m horizontally from the ground station, and well under 100m above the ground. This covers off many disciplines such as Racing, Freestyle and some Aerial Photography.
Cruising, a longer flight, typically in open spaces with minimal RF interference, up to a few km horizontally, and well under 100m above the ground. Typically in low-population densities. (also generally illegal given VLOS rules below)
The final major constraint that Transport Canada imposes is the following:
If we can all be honest for a moment, maintaining unaided visual contact with a drone beyond 100m can become challenging if not impossible rendering much of the pomp and circumstance imposed by Transport Canada to be irrelevant and a waste of time. You can only go where you can see, no? It's an analogy to needing a spotter on the ground in order to perform circuits at an uncontrolled airport in a manned airplane. It's ridiculous.
First-Person-View is term that describes video transmitted from a camera in the front point-of-view of the drone to a screen or goggle that the pilot employs to fly the drone. This technology has exploded the in past few years and can provide short, medium and long range video transmission using public 2.4Ghz and 5Ghz radio frequencies with a wide range of features, quality and latencies.
VLOS goes against everything First-Person-View (FPV), rendering it impossible to comply as a solo-flyer without a network of spotters along a planned flight path. If one is alone in the far north, with nothing but trees and bears around, one cannot legally fly FPV in Canada without a Special Flight Operations Certificate.
VLOS or not, if a drone falls out of the sky, you'll lose visual contact with it no matter how many eyeballs are on it and it will hit the ground eventually.
Flying FPV is not about filing a flight plan, filling out logs, or knowing exactly where you'll be in spacetime at any given moment. FPV sets the boundaries, a limit to the playground, guided by safety, imposed by the reality RF transmit power. What happens within those boundaries, if you pay attention is truly magical.
Where we are? In the land of government over-reach. The boat was missed, the energy misspent. Questionable, if any safety gains through this program. People are confused, and Transport Canada has missed the mark by a nautical mile at least.
Where should we be?
Tossing out the program and starting over might be too far, but with a couple of simple, logical changes, Transport Canada can retain oversight and perhaps make things easier to understand and enforce.
The question really should be about what should the Transport Canada program attempt to solve. One could argue that current regulations have managed to keep drones and aircraft separate for the most-part. There are some reports of airspace incursions and a few cases of drone/manned aircraft collisions, thankfully no injuries or major damages, but it's not a rampant problem.
Everyone would agree, keeping drones away from airports and departure/approach flight lines is a good thing.
Drones and people not involved with drone flights do not mix. The current regulations limit to how close you can fly near someone, and in general prohibit flying over people.
Again, everyone would likely agree, minimum distances should exist.
The world is full of creeps and a flying camera is the perfect tool for creeping. There is a line that mustn't be crossed when it comes to respecting the privacy of others. Enumerating the things that cross-the-line wouldn't be a good use of time, but suffice to say, if a jury of your peers would agree that a line was crossed, you've likely gone too far.
Everyone would agree, privacy should be respected.
Canadian airspaces are over the top (no pun intended); class C/D extending all the way from the surface to 3000ft while kilometers away from an airport without regard to patterns or approaches. It's crippling from a Basic/Advanced operations within a city, yes you can get clearances but often opportunities don't wait around for an SFOC to be requested, approved and delivered.
Here's the NRC's drone tool map for Ottawa: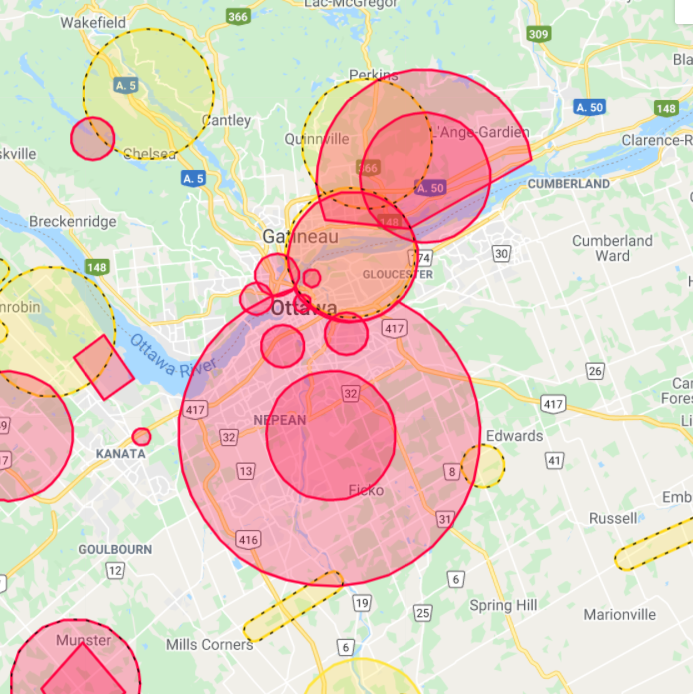 Inside zone around CYOW, Control Zone, Transponder Required. The CYOW Airspace outside the inside zone around CYOW, yep Control Zone, Transponder Required. SFC to 2000ft.
I don't disagree the zone immediately around the airport, no problem, makes perfect sense. It's CYOW Airspace from surface to 2000ft which is over the top. Really?
Can't we say 400ft to 2000ft and the space underneath becomes class G airspace?
Visual Line of Sight
Remove VLOS as a requirement to normal drone flight. This demand stems from a vestigial way of thinking that is unreasonable. The pilot has responsibility to clear and monitor their airspace. Transport Canada offers a mechanism to fly Beyond Visual Line of Sight via a request for a SFOC but again, it's not really a workable solution. It creates unnecessary delay, additional paperwork, feeding a government bureaucracy and likely offers no real increase in the safety of an airspace or to the people on the ground.
VLOS does nothing more than limit the sphere of a drones' operation.
Increasingly, drones are being sold with solid video transmission systems that offer better than VLOS visibility. Admittedly, it does not provide complete situational awareness, but neither does VLOS flying. Use of a screen or goggles provides the pilot a consistent and generally wide field of view providing awareness at a level much more detailed and in the correct point-of-view likely increasing safety, improving visibility and providing the pilot real-time visual information. One could argue the VLOS rules are in-fact are more dangerous as they cripple the pilot and divide their attention by driving the workload up as the pilots focus is distracted from being immersed in flight.
Aviate, Navigate, Communicate. Remember that? What better way to Aviate than to see exactly where you are going.
Define a new Sub-250g and 250g+ Drone Airspace
Drone airspace is SFC to 400ft unless (we're asking to claim space under B/C/D where it makes sense.)

within 3nm of an airport (like 250g today)

within 1nm heliport/aerodrome (like 250g today)

Class F persists for:

Prisons
Military
Other, as designated.
Licensing
The current distinction in licensing can persist and seeing as we've redefined Drone Airspace, the following should stand:
250g: as is, enjoying new Drone Airspace, minus the VLOS restriction.
Basic: Today's basic License allows the flight of 250g plus drones outside controlled airspace using VLOS rules, while staying 30 meters away from people. This proposal allows use of these 250g plus drones in new Drone Airspace, minus the VLOS restriction.
Advanced: Today's advanced license allows the bearer to apply for SFOC to fly in controlled airspace/participate with other aircraft and up to 5m horizontally of non-involved persons using VLOS rules. This proposal removes the VLOS restriction. Drones operating inside controlled airspace must comply with current advanced operations rules. Nothing else changes here.
Insurance
Requiring all pilots flying drones (all weights) to carry liability insurance is a pretty good idea. This is something Transport Canada could facilitate for pilots. It would be useful, offer remedy in case of incident, offer peace-of-mind to pilots and property owners. Mandating an liability amount would be a good start, setting up a group insurance policy would be leadership.
Final thoughts
I've started down this trek in February 2021, and have come a long way. I've passed all the Transport Canada drone tests, including the Advanced Operations exam/practical and very little about the content and exam has applied to my drone flying. I learned quite a bit from the program, but it's so far detached from how I actually fly a drone, that it's hard to respect the program at all.
In many ways, it's like the Canadian Firearms program. It teaches you about firearms, but never once are you trained on how to actually shoot. The Drone program is the same, it bombards you with content that just doesn't apply and you don't actually learn how to fly. What I also don't understand is that passing the Advanced Operations test reduces the distance limit in which one can fly near persons non-involved in drone flight to 5m horizontally; yet with no test to verify that ability within the pilot.
The program misses the mark. The program as it stands is targeted towards a drone future that has Amazon deliveries of packages to your front door. The reality of consumer drone use in Canada is nothing like this. Most people fly drones for fun, within an airspace limited by battery life, control range, and video range.
It would be nice if law makers understood their subject matter and the consequences of their short-sightedness.
Paul – propellerstrike@gmail.com